Feliz 42 aniversario para "Somebody to Love"
Fuente: IG @cultura_musical_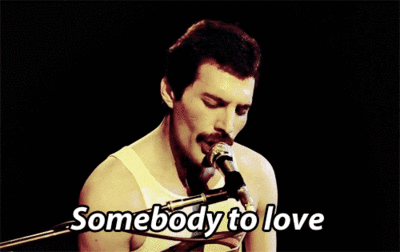 Freddy Mercury - Somebody to Love
Feliz 42 aniversario para "Somebody to Love"
el Single y la canción principal del disco "A Day at the Races" de Queen. El sencillo fue lanzado el 12 de noviembre de 1976.
Composición rock, con aires "gospel", en la que la voz de Freddie Mercury (su compositor) se eleva con escalas de voz muy complicadas, con coros hechos por él mismo, Brian May y Roger Taylor, teniendo un aire rock y de balada, con una letra fuertemente religiosa.
Fue influenciada por los coros de bandas blues y de jazz, en las que predominan los juegos de voces.
En ese corte, el productor musical Roy Baker utiliza la técnica de duplicidad de voces en multicanales al estilo del fragmento operístico de Bohemian Rhapsody.
La voz predominante es la de Roger Taylor para los registros más altos, luego la de Freddie Mercury y por último la de Brian May para las notas más graves.
El resultado es un "Gospel in crescendo" que culmina con un desgarrador "Somebody to love" en el cual Freddie recorre varias notas cambia de escala e incluso se escucha cuando toma aire para descargar las últimas notas.
Desde su publicación en 1976 hasta The Works Tour siempre fue interpretada en vivo. Incluso Queen la llegó a interpretar ante 320.000 personas en el festival Rock in Río en el año 1985 en la ciudad Río de Janeiro.
---
Forma parte de la programación musical de BestOnTop Radio | Escúchala YA aquí:
Queen - Somebody to Love [High Definition] Live | Youtube
#TalDiaComo #culturamusical #website #bestontop #paulamorao #freddymercury #somebodytolove